Festivities - the kid's era !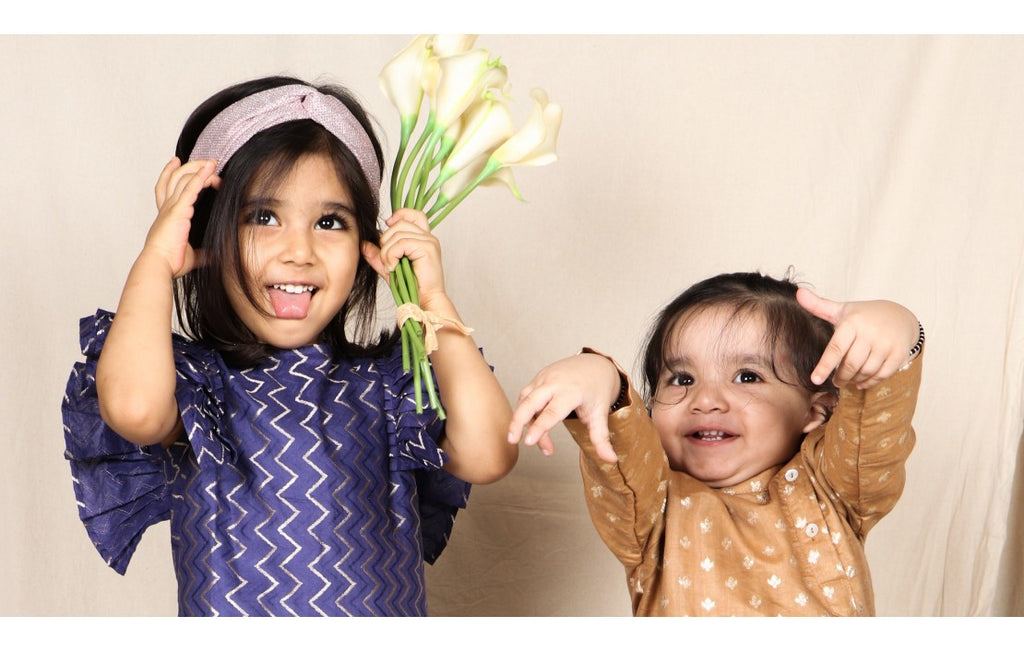 Indian kid's wear is bringing along a new wave of fashion with changing times. It is not only confined to introducing new clothes for kids but is doing so with style and keeping pace with the latest trends.
Festivals are the time to dress lavishly and stylishly. Parents love to dress their baby boys and girls in lovely Indian traditional clothing to add a beautiful dash of colors to their personality. Today's parents buy ethnic clothes and want their kids to look spectacular and stylish. Not only the mums but the tiny tots themselves know what clothes suit them or what accessories or footwear to put on with which getup, they are well aware of how to work their looks at every occasion.
Ethnic wear for kids is relatively new in the fashion world and designers are exploring the field to bring the best of trendy traditional patterns and style. Kids ethnic wear is all about unparalleled alluring charm as a result of lustrous and attractive colors, ethnic motifs, intricate embroideries, and luxe embellishments. All of this together makes for a beautiful and charming ethnic party-wear ensemble that is not only stylish yet comfortable for the little ones who want nothing to hinder their playtime.
Kids ethnic wear has the trendy burst!
Well, there are various reasons why ethnic clothes for kids have become so popular over the years. Some of them being:
 1. Celebrating festivals with everyone can help your kids to meet and greet everyone as well as they can learn the importance of togetherness and parents love to teach their children the importance of festivals.
 2. The attires like kurta pajamas and lehengas are available in abundance in the country and that too at prices lower than the western outfits.
 3. Not only do little ones indulge in decorating homes during festivals but love adorning themselves. It helps them to keep busy and it encourages them to enjoy the festive time more.
 4. Changing fashion trends have led to people shifting from western wear to ethnic wear for kids.
 5. Some handmade designs or dress materials could not be found in western clothes and that is why Indian wear is purchased by the customers.
 6. Changing fashion trends have led to people shifting from western wear to ethnic wear for kids. They feel that if everybody else dresses up according to the occasion then why not do the same for kids as well.
Festivals bring happiness and peace to our lives. And, it is very important that kids should know the importance of festivals from an early age. So, let your kids learn, enjoy and celebrate each festival with lots of happiness.
The bottom line is ethnic wear has become so popular among today's generation that it is becoming trendier and widely preferable day by day. At the same time, the love for Desi is coming back to life and people have started to understand the value of wearing the clothes manufactured in their own country.